Creative Careers Week BOA Trip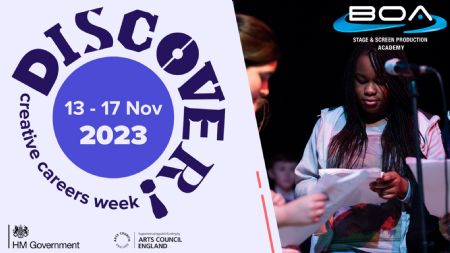 As part of Discover Creative Careers Week, a group of Year 11 students visited BOA Stage and Screen Production Academy to learn all about the options available in the creative industry.
They started their day with an interactive script writing workshop, learning how to use the Trelby software, and wrote a 2-minute introduction to a horror film using all the hints and tips provided.
Next came a tour around the campus looking at the amazing facilities and seeing how students here learn the different skills. Watching a sword fight being rehearsed for their production of Peter Pan and getting the opportunity to recreate a chat show on screen were particular highlights.
The Creative Careers talk then introduced students to different careers that are available and the variety of pathways that can be taken including apprenticeships, university, vocational routes as well as freelancing.
Finally, the Q&A session provided students with the opportunity to hear from staff and students about BOA and their experiences in industry.
Students said it was 'very helpful and inspiring' and 'the day was very educational'.
For more information regarding BOA, please visit: https://www.boa-stageandscreen.co.uk/