Award-winning children's author visits Aldridge School for Book Week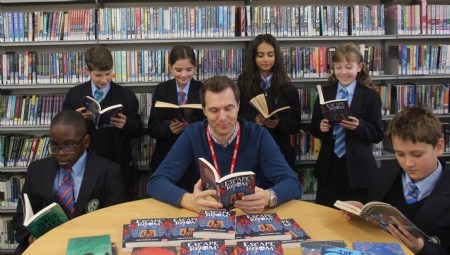 Year 7 and 8 pupils were entertained by award-winning children's author, Christopher Edge, as part of the Aldridge School's annual Book Week. Christopher's latest novel, Escape Room, was selected as The Times Children's Book of the Week.
Pupils were fascinated by the insight he gave them into the world of writing. They also had the opportunity to produce some excellent artwork based on the his book which are now on display in our fantastic library.
Book Week is one of the many ways in which year 7 pupils are integrated into school life and encouraged to read for pleasure. Pupils said, "Book Week has been fantastic! A real highlight was meeting the author Christopher Edge. He spent lots of time with us and gave us lots of hints and tips on how to become a best-selling children's writer!"
You can find out more about Christopher Edge and Escape Room, on his website Escape Room - Christopher Edge